Il Trittico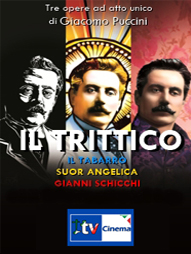 A work in three dramatic steps by Puccini's theatrical genius, which goes from the cloudy verismo of a crime of passion with a gruesome variation (Il tabarro), through the suicide of a particular mother from despair (Suor Angelica), and to the sarcasm of the most exciting will forgery (Gianni Schicchi).
Rent $ 2.99
Watch "Il Tabarro"
Watch "Suor Angelica"
Watch "Gianni Schicchi"
Medea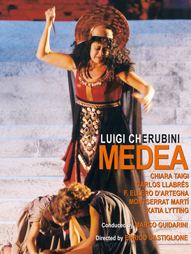 The Torinese Maestro Evelino Pidò conducts Luigi Cherubini's masterpices, to be presented for the first time at the Teatro Regio, in a new staging Hugo de Ana.On stage, an extraordinary cast, with Anna Caterina Antonacci in the title role, wich she confronts for the first time in Italy; with her Giuseppe Filianoti, Cinzia Forte, Sara Mingardo and Giovanni Battista Parodi. There will also be the debut of Maestro Roberto Gabbiani as the new Chorus Master, beginning in this way his collaboration with the Theatre.
Rent $ 2.99
Watch Part I
Watch Part II
Watch Part III
Il Trovatore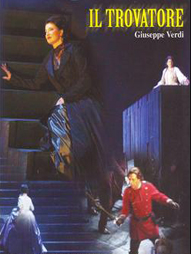 Il Trovatore is an immensely popular melodramatic opera that forms the great trilogy of Verdi's mid-years, along with Rigoletto and La Traviata. The main characters – Leonora, Manrico and the count are all given passionate arias. However, it is Azucena, the Gypsy with a burning vengeful heart, who gets the most challenging part.
Rent $ 2.99
Watch Part I
Watch Part II
Adriana Lecouvreur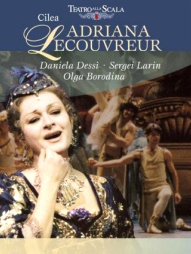 Paris, 1730. Backstage at the Comédie-Française, the director Michonnet and the company prepare for performance, in which both Adriana Lecouvreur and her rival, Mademoiselle Duclos, will appear. The Prince of Bouillon and the Abbé de Chazeuil enter, looking for Duclos, who is the prince's mistress. They encounter Adriana and compliment her, but she says that she is merely the servant of the creative spirit ("Io son l'umile ancella"). The Prince hears that Duclos is writing a letter to someone and arranges to have it intercepted. Left alone with Adriana, Michonnet confesses his love to her, only to be told that she is in love with Maurizio, whom she believes to be an officer in the service of the Count of Saxony.
Rent $ 2.99
Watch