Clic and Kat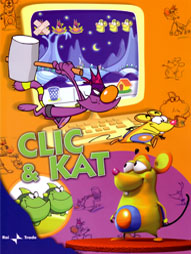 CLICK is a computer mouse who can enter and exit the world behind the monitor as he pleases. KAT is a mangy hacker stuck inside the virtual world and always ready to try and foil CLICK'S plans, though he never manages to get the best of the mouse. Together with POINTER and the VIRUSES, the other set characters of the series, they tell stories using action, gestures, expressions and highly effective music and sound effects, but no dialogue
Rent 26 Episodes for $4.99
Watch
Water and Bubbles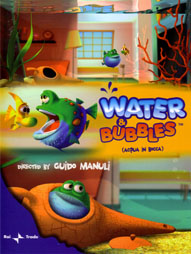 An aquarium, two teenagers and three minutes of good, clean fun. Pippo is a sweet, naive fish who has always lived with the Caragutis and their two adolescent children, Sara and Chris. Then one day he is joined in the tank by Palla, a fish who has seen the world, but never anything like these bizarre teenage beings. Together with pippo (and us), he observes the Caraguti's puzzling, entertaining and, in the end, wuite realistic behaviour, making for three minutes of gags, wisecracks and kids going through the struggle of growing up, plus and a close underwater friendship.
Rent 10 Episodes for $4.99
Watch
Pietro and Raimond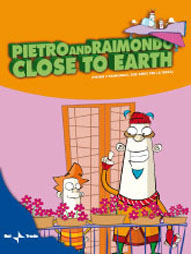 Pietro, a likeable pest with a lively mind, and Raimondo, a knowledge, though somewhat naïve man who has returned from a future in which all ecological problems have been solved, take an off-beat approach to environmental, issues, such as climate change, species risking extinction, renewable energy and waste. In their fun-loving way, they show us that day-to-day acts, both large and small, can improve things, as demonstrated by the future from which Raimondo has arrived.
Rent 13 Episodes for $4.99
Watch